From the first chapter of Live, Love, Lead by Brian C. Houston, which I'm currently reading and thoroughly enjoying…
As followers of Christ, we are called to follow in his footsteps, living a big life along a difficult path, journeying through the narrow gate toward a glorious future. God redeems us as his Spirit transforms us, making us more like Jesus each day. While rarely easy or predictable, this process brings more fulfillment to our lives than anything on earth…

Living in the faith lane isn't a paint-by-numbers picture. It colors outside the lines and sees with different eyes than the world does—eternal eyes with eternal perspective. Your Heavenly Father didn't create you to live a life of mediocrity. He created you to live life in the faith lane…

Living in the faith lane is about taking control of your future while still depending on Jesus for every step you take—even when that means walking on water…

So often we fail because we get stuck in our heads, tangled in our thoughts, mired in speculation and probability, grasping to make life work any way we can. We want to walk on water. But we insist on trying to do it under our own power…

If you want to live, love, and lead like Jesus, then there's no other place to live but in the faith lane. To discover his plan for your life, you will need to step into the great unknown, risking everything you have. If you get out of the boat and follow the sound of his voice, you will take steps you never thought possible. You will begin a mystery tour, an excursion to his unspecified destinations. You will come alive with the possibility of relying on God to do what seems impossible. You will find yourself challenged, stretched, and tried and tested. You may even walk on water. This is life in the faith lane!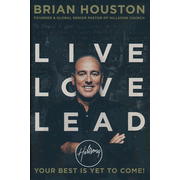 Live Love Lead: Your Best is Yet to Come
By Brian Houston / FaithWords
In this straightforward book, founder and senior pastor of Hillsong Church, Brian Houston, shares his own life-tested experiences and the powerful biblical truths he's learned that will enable you to live fully, love completely, and lead boldly–the hallmarks of Jesus' time on earth. When it comes to life with Jesus, there is no doubt–your best is yet to come! Hardcover.
---
Make a Bigger Difference!
When you grow as a leader, you expand your influence, earn more income, and make a bigger difference in your world!
I believe that when you improve dramatically as a leader, you can rapidly expand your influence, increase your earning potential, and lead your organization or your business to new levels of growth and greatness!
When you become a Pro Member of The Digital Leadership Lab, you get:
A private invite to at least two live group coaching sessions each month.
On demand access to a growing library of courses and coaching sessions.
Access to the Digital Leadership closed Facebook group.
Access to my Digital Leader's vault of downloadable files.
I'm absolutely determined to help you become the best version of yourself that you can be.
Ready to take action and start taking your leadership to the next level?