Books
These links to fresh books in the marketplace are for awareness, not official endorsement.
---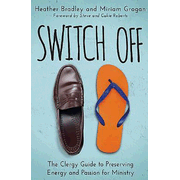 Switch Off: The Clergy Guide to Preserving Energy and Passion for Ministry
By Heather Bradley & Miriam Grogan
Heather Bradley and Miriam Bamberger Grogan's, Switch Off will help clergy members to examine the roles they inhabit and the roles of others around them. By challenging you to change the way in which you engage with and view old problems, Bradley and Grogan offer tools to unwind the complexities of your personal situation and develop new habits to manage expectations.
---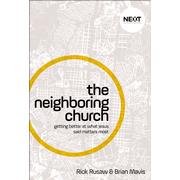 The Neighboring Church: Getting Better at What Jesus Said Matters Most
By Rick Rusaw and Brian Mavis
In The Neighboring Church authors Brian Mavis and Rick Rusaw explore the hows of loving your neighbors. After all, loving the Lord with all your heart and following his lead automatically means loving your neighbors, because he loves them so much. Brian says, Neighboring is about teaching, enc ouraging, equipping, and releasing Christians to love their neighbors. I am compelled to be part of this movement because it is life-giving. It's the most creative way I know to follow Jesus. Besides, it's what he taught us to do. And there it is again-the secret to doing what Jesus says matters most-the secret revealed in the book you hold.
---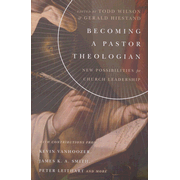 Becoming a Pastor Theologian: New Possibilities for Church Leadership
Becoming a Pastor Theologian: New Possibilities for Church Leadership combines the diverse perspectives and voices of church leaders and academic theologians, each of which carrying the same passion for resurrecting the ancient vision of the pastor as theologian, in order to consider how pastoral ministry and theological scholarship might be reconnected once more. This compilation of essays considers several facets of the complex identity of the pastor theologian, including the biblical, public, and political dimensions of this calling. In addition, the essays explore the insights that can be gained from historical examples of pastor theologians—including John Calvin, John Henry Newman and Dietrich Bonhoeffer—as well as the essential role of Scripture within the ministry of the pastor theologian. Contributors include Gerald Hiestand, Peter Leithart, Philip Ryken, James K.A. Smith, Kevin Vanhoozer, Todd Wilson and more.
---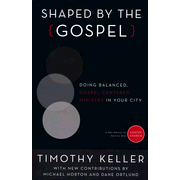 Shaped by the Gospel: Doing Balanced, Gospel-Centered Ministry in Your City
By Timothy Keller
Keller offers a timely analysis of the difference between a "gospel-centered" congregation and a ministry that's fully shaped by, centered on, and empowered through the good news of Christ. Discover ways that doctrinal truths must be actively worked into the fabric of a church—resulting in theologically driven rather than program-oriented outreach. Includes material from Center Church. 192 pages, softcover from Zondervan.
---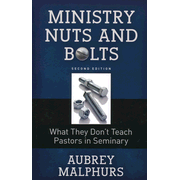 Ministry Nuts and Bolts: What They Don't Teach Pastors in Seminary, Second Edition
By Aubrey Malphurs
Ministry Nuts and Bolts provides the pastor or parachurch leader with a step-by-step guide for developing the foundation for a ministry in the twenty-first century. Veteran church planter, pastor, and seminary professor Aubrey Malphurs examines four foundational ministry concepts – values, mission,vision, and strategy – and demonstrates how to develop them in local church ministry. Many seminary graduates envision ministry as ninety-five percent sermon preparation and five percent for everything else, as seminaries often neglect these keys to ministry. This essential guidebook will bring clarity to the pastor through Malphurs's wise counsel on leadership principles, illuminated by case studies and sound theology.
Blogs
On that last one, I think this one is me:
On a more sensitive topic, plenty of people have engaged in online conversation about the public statements of Brandon and Jen Hatmaker concerning gay marriage and the LGBTQ community. This is a tough issue in that it's not just an issue. It's people. People are made in God's image and loved all the way to the cross and back. But, love compels us to tell the truth according to God's revelation in Scripture. That's why I so appreciated the words of Rosaria Butterfield on the issue. She knows. She's been there. Her voice is one of both experience and theological depth. Read her post, Love Your Neighbor Enough to Speak the Truth.
My friend, Jay Kranda, master of all things internet, was recently interviewed by Churchm.ag and he shares some good thoughts about the reach of online campuses. But you just need to know Jay, so read it.
Additionally, here are a few posts we published on Pastors.com this week:
Resources
If you didn't know, 12Stone Church offers a ton of fantastic resources for preaching and worship, as well as administration. For example, they give away a long list of job descriptions and forms for volunteers. It's an incredible resource from a great church!
---
I've been an Ipad Pro user for a while now and absolutely LOVE my Brydge keyboard! It turns the Ipad into something more of a Macbook with a touch screen and no need for a mouse. It's sleek, fits perfectly, syncs instantly, and the battery lasts about three months on a single full charge. They're nice!